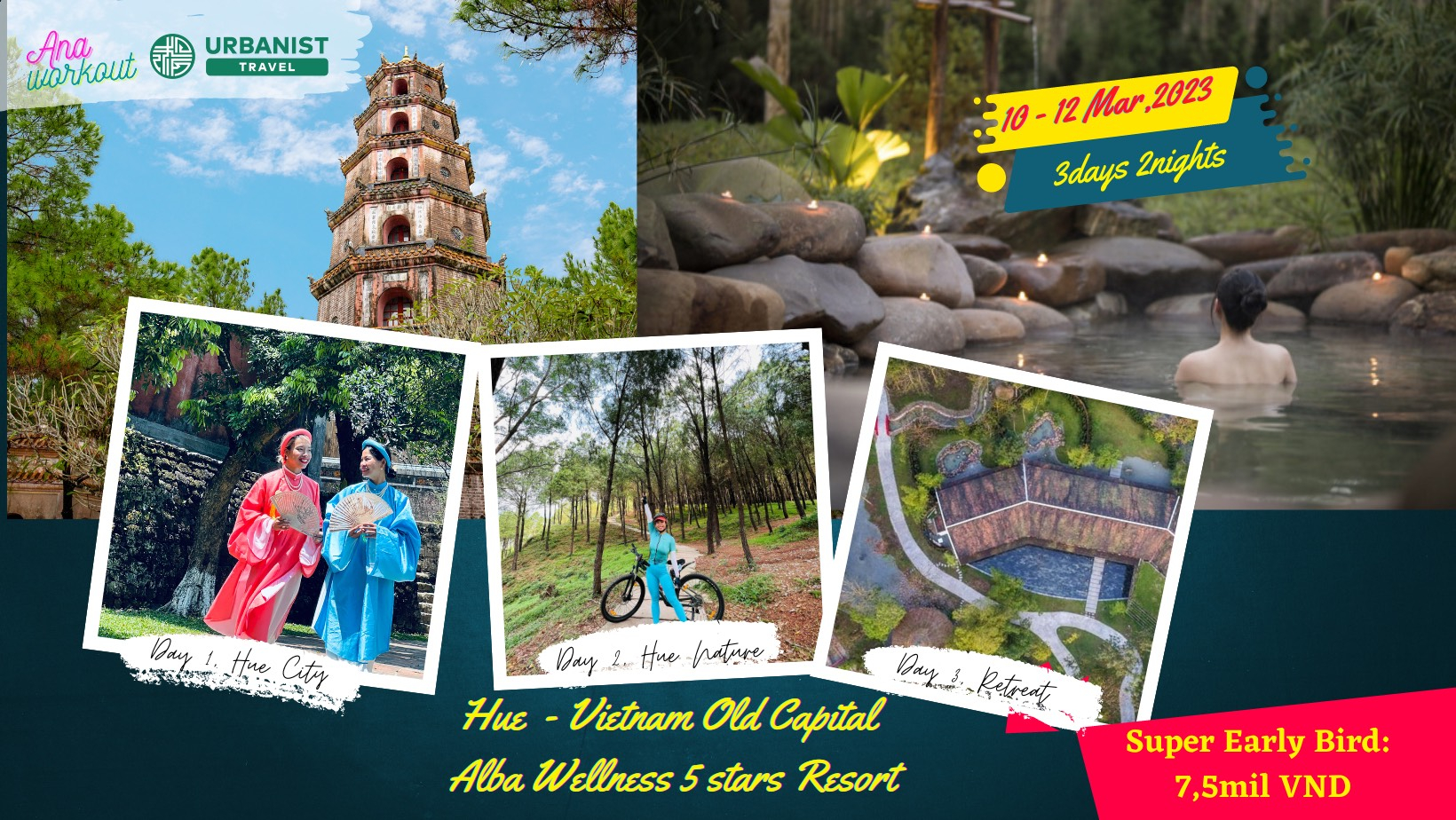 Hue – VietNam Old Capital & Alba Wellness 5 stars Resort (English Language)
1048
1048 people viewed this event.
7500000
Hi Friends,
Hue, once known as the imperial capital of the Nguyen dynasty, is blessed with a very charming landscape; and within such beauty, there lies Alba Wellness Resort.
As you may already be awared, AnaWorkout and SHL's focus is to promote healthy lifestyles and activities. This trip to Alba Wellness Resort will surely be a unique experience as it includes a chance to visit the historical sites of Hue and an opportunity to take pictures of Ao Dai – Vietnamese national dress. You will get to row along the Huong River, immerse yourselves in the poetry of nature, and set your eyes on the beautiful sunset at the end of the day. The resort also contains one of the world's best mineral hot springs within the Alba valley, an experience you will never forget.
Hue is also famous for many signature dishes unique to the region. Isn't it a great way to kill two birds with one stone? Going on an exciting vacation while improving your health at the same time.
BOOK NOW
TIME: MAR 10-11-12 (Fri-Sat-Sun)
VENUE: Phong Son, Phong Dien, Hue, Vietnam
PRICE:
– Super early bird – 1/11 – 31/12/22: 7,5 mil vnd (302 USD)/ Pax
– Early bird – 01/02 – 15/02/23: 8 mil vnd (342 USD)/ Pax
– Standard – 16/02 – 08/03/23: 10 mil vnd (403 USD)/ Pax
NOTE:
– Flight is NOT included
– You can book extra nights in Hue & Alba Wellness Resort for more stay (get better price when book with us)
***Event powered by Get your coupon 500.000 and for AnaWorkout course at this link here: https://anaworkout.com/…/25-days-full-body-workout…/
Details of the main itinerary 3 days 2 nights:
Day 1: Fri, 10 Mar 12 pm: Arrive at Hue (on your own)
Attention:
1. Must arrive by 12pm
2. Drop your luggage here (early check in is NOT included)
– Check-in 4 stars Saigon Morin Hotel
– Activities:
+ An Hien Garden House
+ Thien Mu Pagoda
+ Bring your own Ao Dai or rent Ao Dai (optional extra fee)
+ Enjoy Sunset in Dragon Boat in Huong River
+ Option to rent Sup for Sup Paddle (optional at your own cost)
+ Dinner at a Royal restaurant and you will be dressed up as King/ Queen with a Royal Dinner lifestyle
Day 2: Sat,11 Mar
– Breakfast at Hotel
+ Visit the unique Hue art Legacy – Le Ba Dang Memory Space
+ Experience a full day of cultural and natural immersion in the greenery of the upstream Perfume River.
+ You will learn the foundation of the Nguyen dynasty, touch the source of HUE ecological landscape, and re-connect with nature through the foraging, processing of natural herbal and medicinal plants. – Lunch is served at a rose farm or at a picnic site by the stream.It is possible to take a soft trek in the forest combined with foraging wild medicinal plants (2/4/6/10km)
+ we manage the 20km cycling if your fitness level is allowed)
+ Transferred to Alba Wellness Valley to freshen up and time to listen to yourself through the complimentary scheduled resort's activities – Dinner is provided at Madame Chau
Day 3: Sun 12 Mar – Breakfast at the resort – Morning activities by the resort such as:
+ Binh An Temple (for private meditation or private group)
+ Activities
+ Yoga studio
+ Biking / Hiking
+ Hotspring and other meditation
+ Morin Restaurant or Juice Bar
+ Zipline
+ Free access to day pass area for free plus organic
+ farm, deer garden, forest, craft workshop
– Check out resort around 11:30am
– Private van to the airport (flight is NOT included)
– Lunch is optional (on clients' own) at the airport or we can stop on the way for a lunch takeaway.
LOOKING FORWARD TO THE BEST!