ĐAU CƠ SAU KHI TẬP LUYỆN VÀ CÁCH CỦA MÌNH ĐỂ VƯỢT QUA.
MUSCLES SORENESS AFTER WORKING OUT AND HOW I OVERCOME. (ENGLISH BELOW)
Bạn có cảm giác đau cơ kinh khủng sau khi bắt đầu một hoạt động vận động thể chất nào mới. Bản thân mình khi mới tập thể dục và các học viên khi mới tập với mình ai cũng đều trải qua cảm giác đáng sợ này. Hiện tượng này hoàn toàn bình thường và nó xảy ra với bất kỳ ai, thường kéo dài từ 2-3 ngày sau khi bắt đầu một hoạt động thể chất mới. Nhưng đừng lo lắng nhé, cơn đau nhức muốn giục tay giục chân này chỉ là dấu hiệu của việc thể chất chúng ta mới bắt đầu và sẽ được cải thiện tốt hơn, tăng sức bền và sức mạnh cho cơ bắp.
Mình sẽ không nói nhiều về lý do dẫn đến cảm giác đau cơ này mà sẽ nói về việc làm sao để chúng ta thấy việc đau cơ là bình thường và sẵn sàng để đón nhận nó.
Chuẩn bị tâm lý sẵn sàng là sẽ mất 2-3 ngày cơ đau nhức, lên xuống cầu thang và đi lê lết. Việc chuẩn bị sẵn tâm lý này sẽ giúp bạn chịu đựng cơn đau nhẹ nhàng hơn.

Coi đây là thử thách đầu tiên cần phải vượt qua và là một trải nghiệm mới mẻ cho người mới tập thể dục, đối với người đã từng có cảm giác này trước đây và sợ thì đây cũng là cơ hội để mình vượt qua nỗi sợ của bản thân và sẽ luôn tự nhắc mình là phải xây dựng được thói quen tập luyện để không bị đau nữa nhé.
Làm thế nào để bớt đau? Có 1 số cách nhé:
Tiếp tục quay lại lớp sau ngày tập đầu tiên dù có bị đau cơ cũng phải lết đi, vì nếu mình viện cớ đau mà không tập ngày hôm sau thì thời gian phục hồi càng lâu hơn. Sau 2 ngày liên tục tập, ngày thứ 3 nếu quá đau, bạn có thể nghỉ ngơi 1-2 ngày

Xông hơi 15p: không xông hơi ngay khi vừa vận động nhé. Xông hơi làm nóng cơ thể sẽ tăng tuần hoàn máu và giúp giảm căng thẳng cho cơ bắp

Dùng con lăn/ bóng giãn cơ để tự lăn các vùng cơ bắp bị đau sẽ đỡ lắm đấy

Trong ngày nghỉ ngơi của bạn thì bạn vẫn nên vận động nhẹ nhàng như đi bộ, đạp xe, chứ đừng nằm ngồi liệt một chỗ sẽ càng đau hơn đó nhé.
Cuối cùng là, mình muốn nhắn nhủ là Đau 2 ngày thôi, sau đó tập lại nó SUNG hơn, cảm giác tập mà cơ không đau nữa là cảm giác tuyệt vời đầu tiên trong hành trình tập luyện của bạn. Việc bản thân trải qua thử thách và cảm nhận mình đã vượt qua nó là Cảm Giác Rất Đã mà khi bạn càng luyện tập bạn sẽ càng yêu thích cảm giác đó. Tin mình nhé!!!
You may have experienced the SORENESS FEELING after workout before and it's truly an awful feeling that I never want to have again. Myself and my students have been through this feeling and actually it's a very normal thing that happens when we start doing new physical, more intensive activities than normal. I will not talk about the reason causing the pain here, I just want to share my own way to help me get over it easier.
Prepare your mindset ready that this is very normal pain and it will only last for 2-3 days. Setting up this mind will help us to let the pain come naturally and less stress.

Seeing it as the 1st Challenge for your new training journey. It will be a very exciting feeling for beginners and if you already experienced this feeling before and you didn't like it, it will be a chance for you to overcome the fearness of muscle pain and will always remind yourself in the future that you must build a workout habit to not having this feeling again.
How to feel less Soreness?
Continue to come back to your training class the day after the 1st day no matter how painful you felt, because if you don't keep doing it, you will feel more painful and harder to come back to the class, it also will take longer time to recover.

Sauna after hard training can help to relax the sore muscles by increasing blood flow to the affected area.

Foam Roller: A foam roller is an inexpensive piece of equipment (found at most sporting goods stores) that is used for self-massage (also called myofascial release) and helps break up knots in sore or tight muscles. Foam rollers provide a variety of benefits, including a reduction in muscle pain, soreness and tension. Spending just a few minutes foam rolling each day can do wonders to relieve pain and keep you feeling great.

On your rest day, you should do some active recovery by light physical activities like walking or cycling, not only sitting on the couch, it will make the pain worse if you do nothing 
Finally, I just want to share that this is only 2-3 days of pain. If you can get over this feeling, it will be the 1st step of your success in your new training journey. You will enjoy the workout more and especially the feeling of overcoming a challenge is really the GREATEST FEELING ever, you will slowly enjoy it more when the more you workout.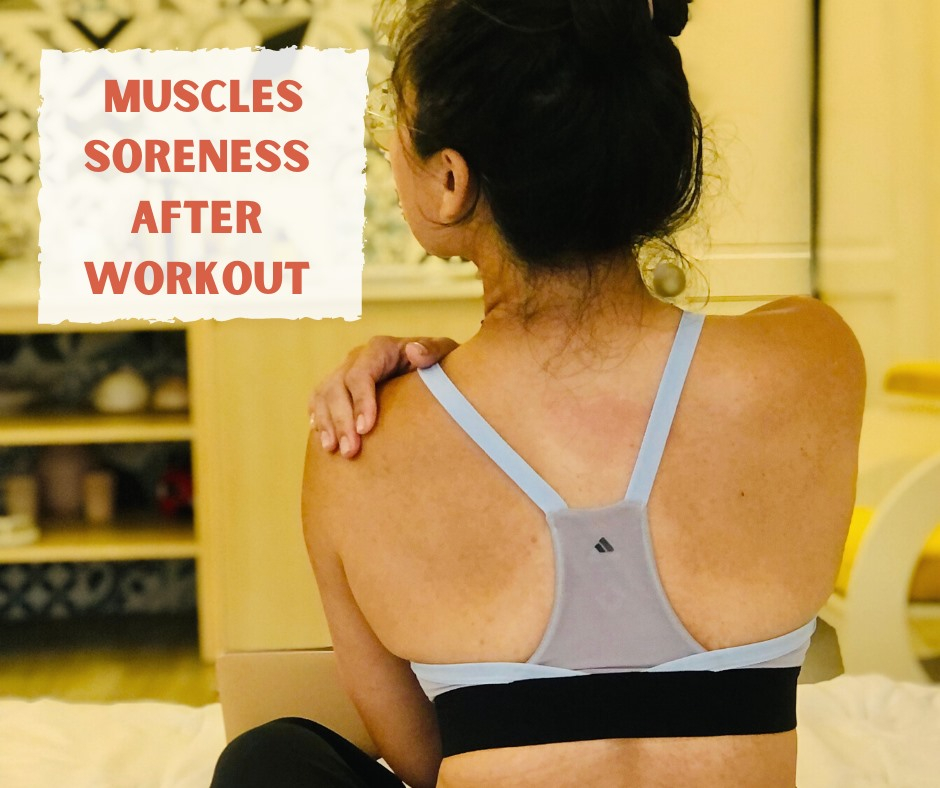 (Visited 25 times, 1 visits today)