Best Experiences with 5 stars Cruise - Ha Long Heritage
Since I started Saigon Healthy Lifestyle community, I always love to experience new things and share my experiences with the community. Last trip to Ha Long, I had a wonderful experiences when taking 2D1N tour with Ha Long Heritage 5 stars Cruise. This is my first time taking an overnight cruise so it was very incredible trip for me, i felt the true Ha Long Bay, Lan Ha Bay. I got a chance to live slowly for 2 days in the most beautiful place in the world, I believe this is an experience which we should try at least once if I m in Vietnam. From my cabin, i can see the Bay slowly passing over me through the big window, what a great feeling and i would love to share this experiences to all my friends.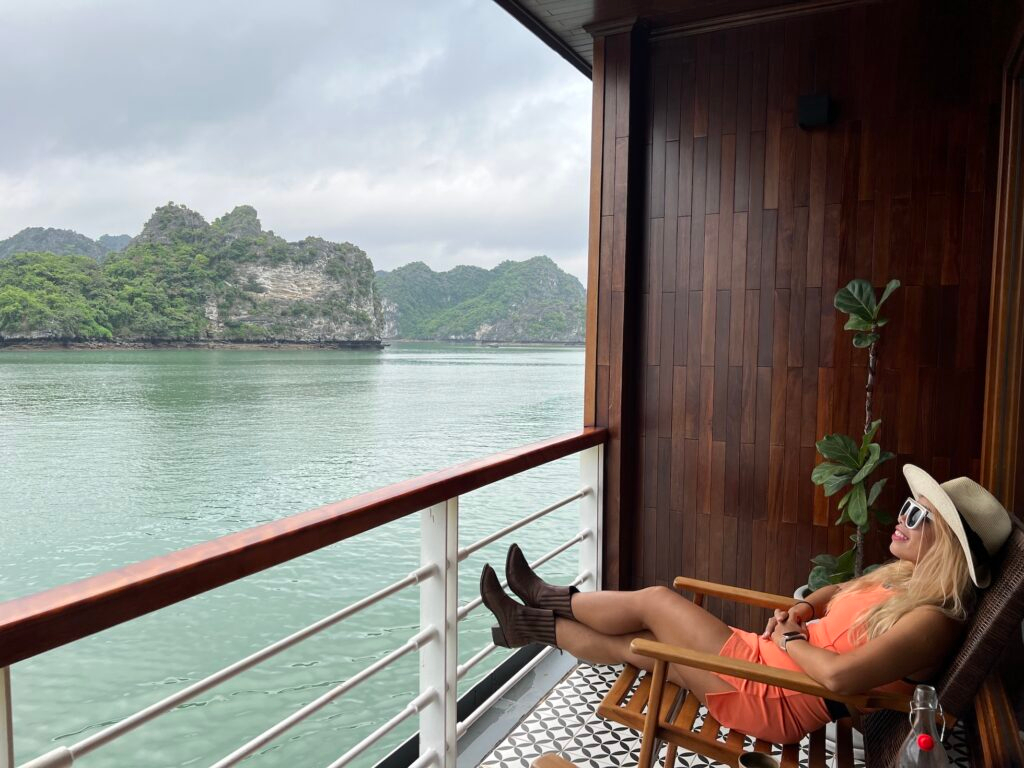 Warmly Welcomed and Truely Hospitality
At Tuan Chau port, me and my friend KT were warmly welcomed by Cruise Manager and he took us to the small boat before getting in the Cruise. 1st impression when I see the cruise is all cruise furniture made by high end wood. We were taking to the 3rd floor lobby to wait for check in and being introduced about the cruise agenda. Ms Trang – Cruise Manager also introduced the whole crew would take care of us who are captain, chef, staffs. 1st time taking the cruise, i was impressed by their professional, hospital and friendly of all staffs here. I felt so excited to next 2 days. In the mean time, all of our luggages had been delivered to our cabin… 
Indochina Style, Luxury Interior Design
After being introduced about the trip activities and meal plans in 2 days, we have 30m to prepare and get changed before our lunch buffet. I felt so exciting to see my cabin in real, not beautiful photos anymore. And yes, i did't feel disappointed, the big window was exactly as my imagination, big and great view to the landscape, the bed was so comfortable, the bathroom with big bath next to to the window. Especially, lovely balcony where i could sit and chill, looking over hours to the bay. The view was simply just stunning and hard to describe the beauty by words, thousands of small mountains raised on the blue ocean, making the scene so  unreal but you just immerse into it. All furnitures were made by wood and indochina style designs, so it brought the feeling of the past, felt like we traveled back to 19 century. After taking awhile to immerse into the beautiful landscape, i checked out the closet and found the beautiful  blue Áo Dài (Vietnamese Traditional Dress) that the Cruise prepared for all guests so we could wear at our dinner. I put on the Ao Dai and took some photos before going to lunch…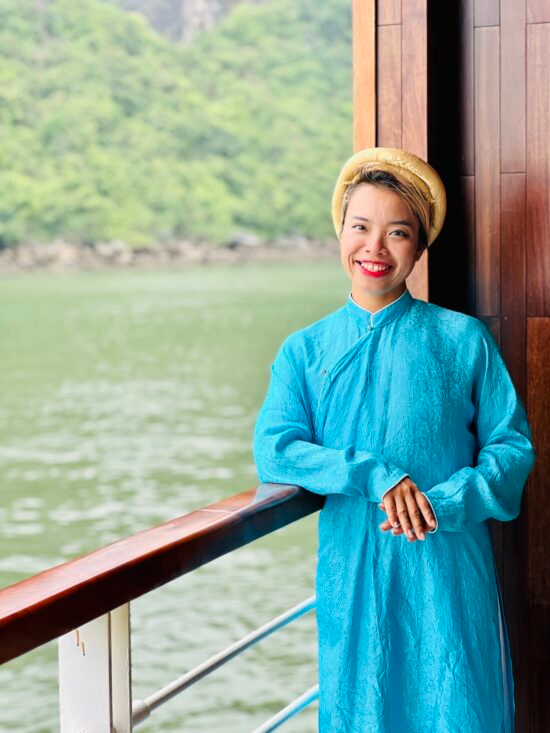 After changing clothes, i took sometimes to walk around the Cruise, checked out the hall of all black and white photos of the north of Vietnam in French Colony Time.  Going down the stairs and reach to 2nd floor library, the big white sofa next to big window was really calling to sit there, checked out some books on the shelves and I could sit there whole day, but i had to go for lunch 😛 
The restaurant for lunch located on 3rd floor, tables were all set up with our name on the table, we sat by the window, enjoyed the food the stunning view more and more. 
After the lunch, I continue my little Cruise Tour, i especially loved the main hall with big circle in the middle of each floor where they got the light for the whole cruise, then i checked the art gallery where they displayed many paintings of VNmese painter. Everything looked artistically in this Cruise .
The pool are and sundeck area are the best spot to watch the 360 degree view of the Bay, I could chill here and ordered a cocktail to enjoy this great moment.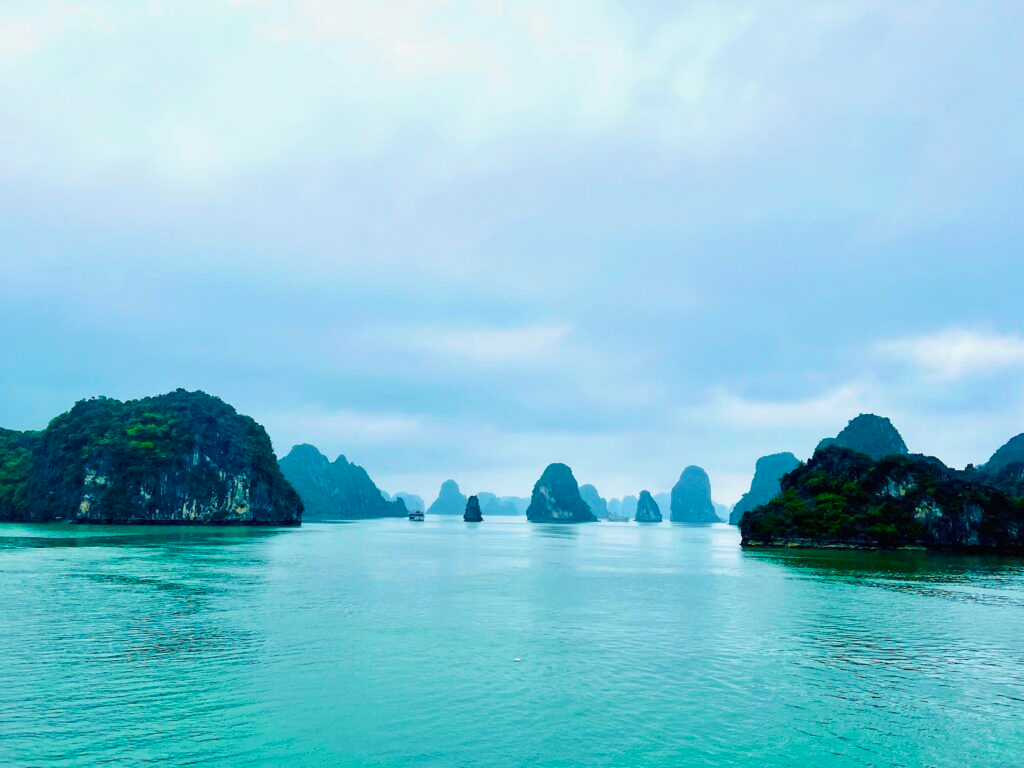 Many interesting activities along the trip
One of the best things when traveling on the cruise is they got many interesting activities: Kayaking/swimming at Lan Ha Bay, taking small boat to visit caves, Vovinam on Sundeck and watch Sunrise, Squid Night Catching, Cooking Class, etc
Professional and Friendly Staffs, good service
This is very important in any 5 stars experience. We got good quality service and staffs always know how to communicate with guests, make us feel comfortable and welcoming all the time. I got very good impression about their staffs and was abit sad when leaving the cruise, the managers welcome us on board and waving to say good bye was such an emotional feeling. 
I think food here are customized as Western taste so for my opion, the taste is not so typical for Vietnamese food. However, they do have many options for us to choose. I liked dinner set menu which was well prepared, full portion and beautiful. I also ordered red wine, it s quite affordable and good quality. 
My tentative schedule (to be update upon discussion)
Above are my own experiences in Ha Long 5 stars cruises. I will have a chance to come back to Ha Long for VNexpress Marathon on 24 july, so I would like to take advantage of this time to introduce and take my friends to this Cruise. If you would like to join me, let talk more and make a interest group together to discuss more. Please pm me to my FB page to get more info about this at AnaWorkout page. 
My tentative schedule (can be changed after firmed a group and discuss)
Thursday, 21 July: Fly to Hanoi 
21 – 22 July: Stay in Hanoi and organize bar hoping event with Hanoi gangs on Friday night 
Sat, 23 July: Take bus to Halong, stay in Halong city 1 night
Sunday, 24 July: I will join VNexpress Marathon, people who not join the marathon can enjoy the City in the morning. At 12pm, we all will join the Cruise 
25 July: check out the Cruise in the afternoon and go back to Hanoi
26 July: Fly back to HCMC
Cost for Cruise 2D1N is 3,500,000vnd/pax (including food, all activities, water in your cabin, excluding alcohol and other drinks). 
Note: 2 people/cabin –> 7,000,000vnd/cabin so if you wish to stay with your family, please let me know in advance to arrange for you, or we will arrange among our interests group. 
Transportation: 
From HCMC – Hanoi : I ll take return flight ( will book by 15 Jun) 
From Hanoi – Halong: Take Limosine Bus (700k/person return ticket to Hanoi) 
Accommodation: 
We will stay in Hanoi, Halong (TBU) 
(Visited 172 times, 1 visits today)